It should not have been so surprising to see that the travel industry globally appears to be totally unprepared for the travel onslaught that has begun. People who have spent a long time confined in their own homes locked within in their own countries were obviously going to want to travel at the first safe opportunity. But, it appears that the industry as a whole is simply not ready for them. Aviation & Hospitality has suffered hugely with forced reductions of staff, reductions in flights, and hotels, resorts & camps all over the world have had to close down, many of them never to reopen. Many experienced and highly trained staff at every level have either gone into early retirement or retrained in other disciplines and have turned their backs on the travel industry completely.
Thinking about it, who can blame people who worked in either industries for wanting to have a different life. Living the jet-set lives of cabin crew and pilots I should imagine is not as glamorous as it appears. Days away from home, crossing multiple time zones is exhausting, and certainly not ideal if you are starting a family. Similarly, the hospitality industry – long hours with often poor pay and on occasion being subjected to abuse – is possibly not the job one would choose nowadays. So is it that we are seeing both industries under threat? People will always need to travel and people will always want to go on holiday…….but without staff how does the industry get back up again?
Food for thought.
On a more positive note – The wildlife here in the Nairobi National Park has been spectacular and everything appears to be thriving! We have a Leopard who has moved back into the lodge and seems to have claimed squatters rights underneath room 6. There was a pair but we are now left with one and can only assume she has cubs in there. Poor Immaculate, most of you will know Immaculate if you have stayed with us as she and the team are usually the first to meet you, had an encounter with one of these Leopards not too long ago. It was early one evening, around 7:30pm and guests had all arrived back from game drives and were heading to their rooms to freshen up before dinner. Immaculate was in the office closing up and suddenly a young Leopard peered into the office and then trotted by. Immaculate was so shocked it took a few seconds to absorb what she had just seen. She rushed to the door to close it and quickly poked her head out to see the leopard now sitting quite nonchalantly in the window sill.
We did not believe her when she told us but our stealth cam managed to get it all on video!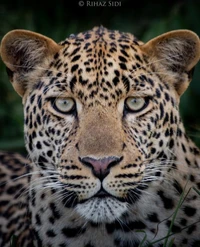 Speaking of 'dangerous' wildlife encounters, we continue to wage war with our resident hyrax population which is growing by the day. Our vases of roses are constantly under threat and our team can be seen from time to time leaping out of offices and rooms to catch the Hyrax unaware and scare them into spitting out their mouth fulls of petals. I do put the success of this population down to our rose petals……..A part of me thinks we may have to go down the plastic route and buy fake plants but I also feel that the constant onslaught on our pretty displays is purely out of spite, so I do not have much hope for fake replicas.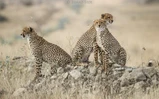 In other news we had the wonderful Rose Lloyd Owen with us earlier this year who worked with our kitchen for a week to 'refresh' our menus and bring some life back into the lodge. We held a tasting evening here which was a huge success and everyone had the chance to meet the famous Rose and chat to her about her amazing business. Along the lines of food, we are hosting another wine and cheese evening here at The Emakoko on the 4th of November with the brilliant Delia Brown and the team from Solovino, so please save the date!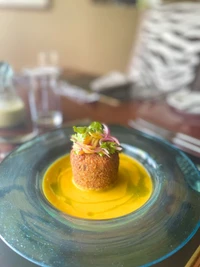 Anthony & I celebrated a combined total of 90 years on this planet, we did this as only you could – an end of our 80's dinner party with all the bells and whistles (and appalling fashion) celebrated at The Emakoko. I might add that whoever said 'Age ain't nothing but a number' was clearly never catapulted onto the floor by their ageing husband, trying to re-create the iconic Johnny and Baby lift from the end of "Dirty Dancing". Apparently age is a lot more than a number and does affect not only your judgement but also your strength (and weight)…… It was wonderful to be able to celebrate with good friends after these last few years.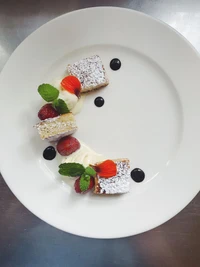 Onto our very special team – We are so pleased to have Jackson, an employee who has been with us right from the start (and whom we almost lost to COVID) move up the ranks once again into the guides department. Jackson has now worked in rooms, dining, stores, office and has finally reached where he wants to be. We are so excited to unleash him out into the field and know that our guests will really enjoy having him as a guide. Incidentally, Jackson is also an asthmatic and holds the current record of 14 seconds from bottom to top of the funicular ladder. I know it looks like nothing and most people get to half way in about 8 seconds, it is however the last 52 steps which are the killer. Jackson has been replaced by Eric who is now in our office and is learning the ropes quickly.
Patrick and his team are very busy churning out our amazing Chilli and Ginger Dawas, with our Mombassa limes in season they taste spectacular! Steve Chef and crew have had a super start to the year and now have an incredible menu that they are producing on a daily basis. Anthony's favourite 'The Emakoko Burger' is also a favourite of many of our guests. I might add though, I was reluctant to let 'fast food' appear on our menu but Rose insisted and Anthony agreed. No regrets there.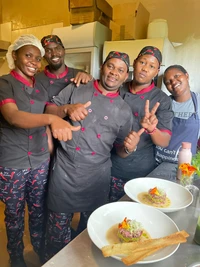 Elizaban and his 'embellishment' of guides are doing a spectacular job in the park with our guests seeing so many amazing sightings. We are so pleased to see a couple of new baby cheetahs (a new female with two cubs) which brings our total up to Seven! Speaking of our guides we are so pleased for Rihaz, our manager and resident photographer who has been given the honour of 'Honorary Warden' of the Southern Conservation Area – which is an enormous accolade and well deserved.
We have also finally refurbished our rooms after 11 years and are so pleased with the new look. It is completely different to what we have had before and the feedback has been wonderful.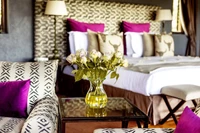 So Summer has well and truly begun and life at The Emakoko is feeling more and more normal. The bar is buzzing again and it is wonderful to have people from all over the globe crossing our bridge again. We do hope that you are all heading off somewhere exciting and we look forward to seeing many of you here again.