In this time of international lock-down and enforced isolation, I have to remind myself how lucky my family and I are living, as we do, in a National Park only minutes away from Nairobi.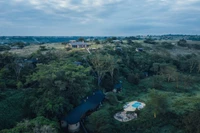 Corona virus has made social distancing an unfortunate condition of life in the world. For us with our individual cottages and open air lodge, social distancing is something that has been a part of our every-day lives since we opened. Indeed, it is something that a safari anywhere in Kenya offers, let alone one so close to Nairobi.
As those who have stayed with us will know the only company we have is the birds and beasts, who more and more view us as a part of their world. Our small size , which when we opened we thought might be a disadvantage, in this current environment is now possibly an advantage. Although our International guests are for the moment unable to get to us, our Kenya resident friends see us as an oasis of calm and relaxation and enjoy getting away from it all for some peace and quiet. That peace and quiet is something that our family have come to take for granted. So while our business, like many others in our industry, is really struggling, we are fortunate to be able to count the blessing of living a natural life in a natural environment with some of the most wonderful people.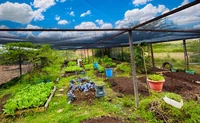 The Emakoko is built on the edge of a gorge overlooking the park and we have an untamed wilderness 20 feet from our office. We have our own chickens and a wonderful veggie patch that is feeding us all. During this time, the "mess" area is no longer the quiet centre where our guests can relax, but more a battle-ground for our large population of resident Hyrax. Since the weelky order for roses for the rooms and public areas has been cancelled there are no more little floral snacks, and they are now 'thinning out' and turning back into the strong fierce little creatures they are. Gone are the days of lounging on the bar stuffing ones face with delicious rose petals!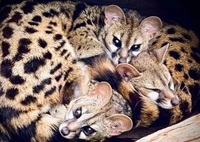 At night our Genet cats and Bush babies have taken over completely and the following morning the carnage of what looks like an all night rave has to be cleaned up. Incredible the damage that these little nocturnal visitors can do! It is so quiet now that from time to time we do get the bigger predators crossing the bridge and moving through the mess area at night. Our poor nightwatchman, no longer having to pace the pathways and keep the wildlife away from the rooms, was woken from a peaceful slumber on a sofa to find himself alarming close to a Lion on a midnight stroll through the bar!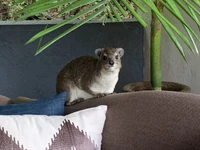 Rihaz and Anthony have popped out on the odd game drive to keep in touch with not only the park rangers but also the park residents who appear to be unaware of the world's isolation. Working on their photographic skills, it is wonderful having Rihaz here – our now onsite professional photographer – who is at the moment teaching Anthony a few tricks of the trade. The Park seems to be heaving with lions and the other day we had the misfortune of coming accross an extremely grumpy female Black Rhino who, having had no cars to chase of late, thought that she would take out all her stored energy on us. The kids shrieking like sirens in my ear with "Mummy Mummy she is going to hit us" and a baby screaming with joy 'baba bye bye baba bye bye baba bye bye' it was an extremely stressful minute or two until we left her in our dust.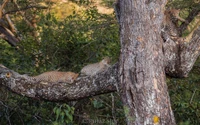 We have the most amazing community of Masaai around us who although apprehensive to a certain extent about this new pandemic, will not let this get in the way of their daily lives. Following Social distancing guidelines of course, the main activity is moving cattle and goats over the plains, chatting to neighbours (at least 8 cows apart) and now looking after their small vegetable patches. If you are a part of this community you are very well looked after.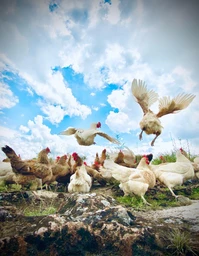 Protect the elderly and the vulnerable – yes, we have been doing this for decades.
Feed those that cannot feed themselves – again, this is part of our lives.
Stay at home – why would we ever want to leave? We are indeed in isolation, but it is about 35,000 beautiful acres of isolation!
I go for my runs in the morning through the community and it could not be more normal, village people are going about their business. What has changed though is the complete joy and enthusiasm people appear to have when they greet each other these days. The traditional handshake is now replaced with an elbow knock or a foot tap dotted with hysterical giggles as to how silly this has all become. As I run past, people wave madly as though I have not seen them for years……..and I feel safe. I live here happy in the knowledge that this community here is a very special one; where everyone knows your name and we all look out for each other. With a pandemic like this you need a community like this, a group of people who understand the risks, protect those who are vulnerable, ensure that everyone does their bit and that no-one goes hungry. There is no such thing as "me first" in this little world; we are so very lucky to live here.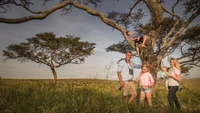 In harsh reality though, the only effects of Corona on this community and us, is the loss of business and we now find ourselves staring into a financial abyss, as are so many of our sister companies in the tourism industry. I don't think any of us know when life will get back to normal but what we do know is it will. When it does we hope that we will be able to welcome you to our wildlife hideaway and that once again you can enjoy life as is should be lived: in a natural environment surrounded by the flora and the fauna of this beautiful country.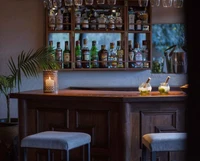 In the meantime, an extract from my all time favourite poem which is more fitting now then ever.
"And whether or not it is clear to you, no doubt the universe is unfolding as it should. Therefore be at peace with God, whatever you conceive him to be. And whatever your labors and aspirations, in the noisy confusion of life, keep peace in your soul. With all its sham, drudgery and broken dreams, it is still a beautiful world. Be cheerful. Strive to be happy."
Max Ehrmann
Please stay safe everyone and we really really hope to see you again soon.